Overview
What we can learn from the bunq V3 release
Design
Feifei Zhou on 22 Jun 2020
Recently, a mobile internet bank called bunq released a new version of their app with a complete new design. What followed was a lot of criticism from their customers. As someone who doesn't use bunq and doesn't know a lot about the company, I was curious about what caused the outrage from their customers. So let's take a deep dive into the past few days of the bank of the free.
Bunq is a Dutch startup that was founded in 2012. In 2015, they had 60 employees and in that year the first version of their banking app was released. They were the first bank in the Netherlands that fully operated on mobile devices. Since then, bunq introduced several innovative features that made them different from other banking companies.
The initial promise of bunq was to break the conventional way of banking, and to create a bank that is prioritizing the freedom of individuals. Read their vision on their website: "We're here to break free from the status quo, and create the bank with you in mind. Giving you the freedom to live life on your terms."
Bunq V3
The launch of V3 (17th of June) came with a complete redesign of the interface, giving it a complete new look and feel. However, this release was criticized by a lot of people. If you search on the internet, you'll quickly find some of the people complaining about the release. Bunq's main reaction to the critique was that people should get used to the design, and get on with it.
Some other interesting things were also happening while people were criticizing the new app. Users claim that Bunq seemed to handle the criticism by silencing people on their own forum and other platforms.
Findings about the new app
After reading some of the negative reviews of the new version of the app, I decided to take a look at the app myself and draw some conclusions.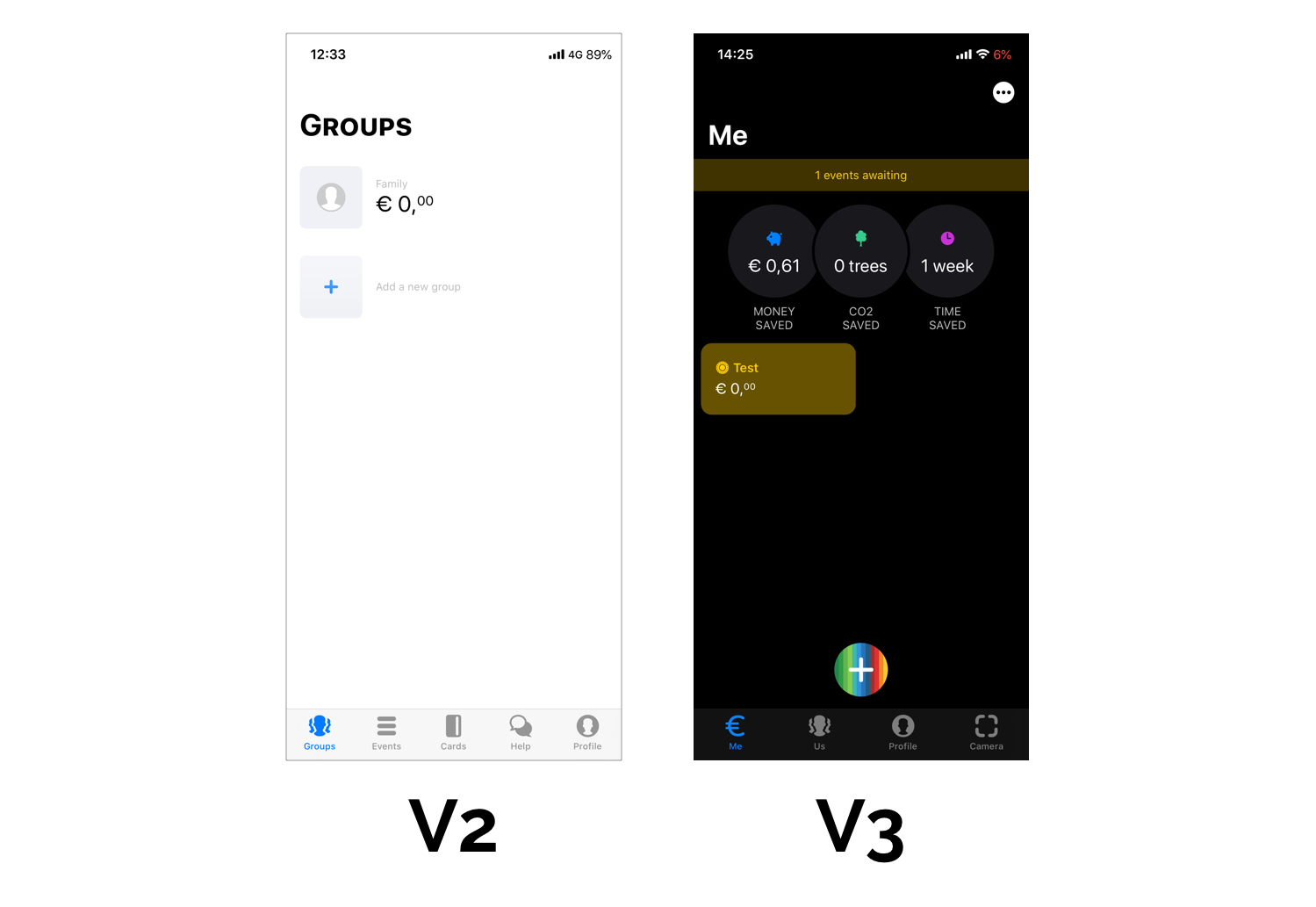 Bunq decided to push a radical redesign. It usually takes longer to get used to an entire new interface instead of more gradual changes. So, when making this decision, you need to be sure that the new interface is actually an improvement. It's best to avoid making any assumptions on the quality of the new interface, and to test the app with people before launching it. As an UX designer, I cannot repeat this enough.
Going through the feedback of customers, I would like to highlight what I think is the main problem here:
The new interface did not prioritize a content-first approach with the user in mind.
What do I mean by this? When designing an interface it is important to discuss functionality and content first. What is the main functionality of the banking app? What do people primarily want to achieve with the banking app? What is the second most important content they want to see? In the new interface they introduced the "+ button". It seems like this button functions as a menu, that is different for each screen it appears on. Main functionalities and less important functionalities are put together on the same level and are hidden behind the "+ button". There is a true lack of hierarchy of content in the new app, which brings a lot of confusion where to find things that users are looking for.
By the way, here is an excellent article about creating a good hierarchy of content and functionalities.
Conclusion
What can we learn from this?
It might be smart to think about implementing UX knowledge in your products. Currently there are enough freelance UX designers available that can add true value to your company and products. We are here to help!
As mentioned before, bunq seems to handle criticism in an unprofessional way by deleting comments. I hope this will be a lesson for everyone that opening our eyes and responding professionally to constructive criticism is an essential part of making great products.